Kantaji Temple is a late-medieval Hindu temple located in the north-western part of Bangladesh. It is one of the most magnificent religious edifices belonging to the 18th century.
The temple belongs to the popular Hindu god Kanta or Krishna, and is most popular with the assemble of memorable love of Radha-Krishna in Bengal. Dedicated to Krishna and his wife Rukmini, Kantaji Temple is one of the greatest examples of terracotta architecture in Bangladesh.
The Making of Kantaji Temple
Maharaja Prannath of Dinajpur began its construction in 1722 AD. His adopted son Maharaja Ramnath completed it in 1752 AD in order to propitiate the consort of Rukmini in fulfillment of his father's wish. However, in the early 20th century Maharaja Girijanath Bahadur restored it substantially, except for the missing nine spires, all of which were destroyed in an earthquake that took place in 1897.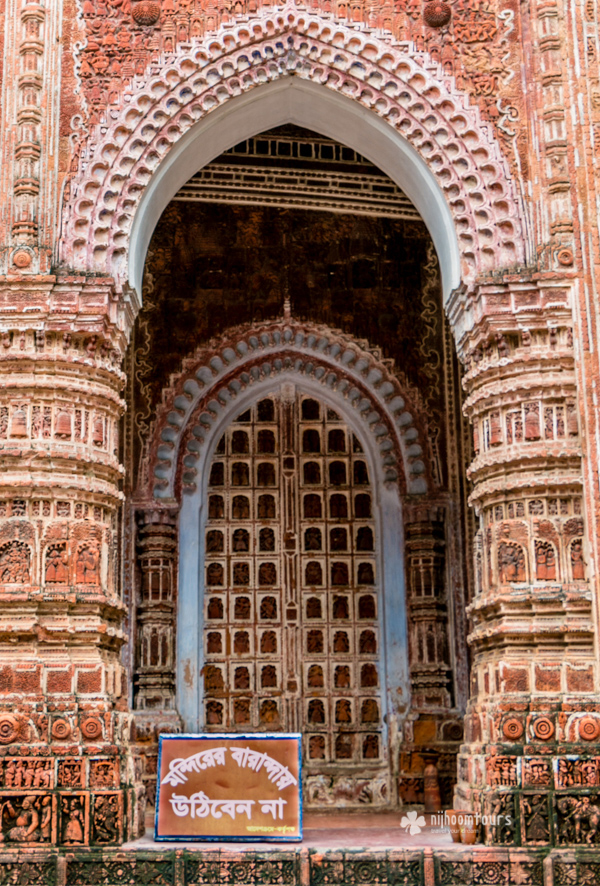 Architecture of Kantaji Temple
Kantaji temple is built on a magnificent pyramidal style with three receding terraces. It was crowned with nine ornamental ratnas (jewels) or spires on the corner of the three terraces. These gave it an appearance of a huge Ratha or an ornate chariot resting on a high plinth. It was provided with arched openings on all four sides in order to enable devotees to see the deity enshrined inside from all directions.
The temple stands in the centre of an oblong court enclosed by a pilgrim shed with corrugated tin roof. It is built on a 1.00 meter high plinth of stone. The curved cornice of the ground floor is sharply drooping at the corners. There are small square cells at each of the four corners of the ground and first floors for supporting the heavy load of the ornate octagonal corner towers above.
The temple accommodates four rectangular corridors on the ground floor around the prayer chamber. On the ground floor, there are three multi-cusped arched entrances on each side, each separated by two richly decorated brick pillars. A narrow strip of staircase is built into the western second corridor, winds up through its dark passage to the first, second, and third stories.
A small derelict single spired temple, now overgrown with rank vegetation, stands about one hundred yards north of the main temple beyond the pilgrim shed, which is believed to have been erected by Maharaja Prannath in 1704 where he initially installed the Krisna icon, brought from Brindaban. The icon was later transferred to the 'nava ratna' temple when completed. It is now an abandoned temple.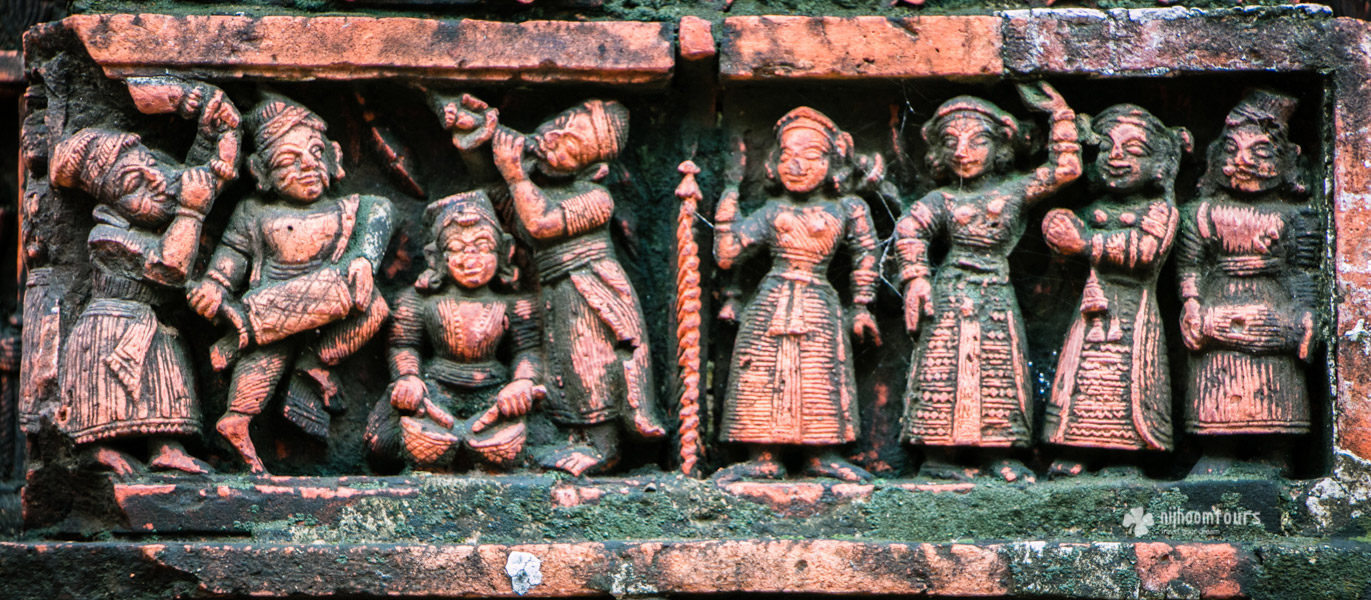 Terracotta Decoration of Kantaji Temple
Every available inch of its wall surface from the base to the crest of its three stories, both inside and out, is decorated with amazing profusion of figured and floral terracotta art in unbroken succession.
The vast array of subject matter include the stories of the Mahabharata and the Ramayana, the exploits of Krisna, and a series of extremely fascinating contemporary social scenes depicting the favourite pastimes of the landed aristocracy.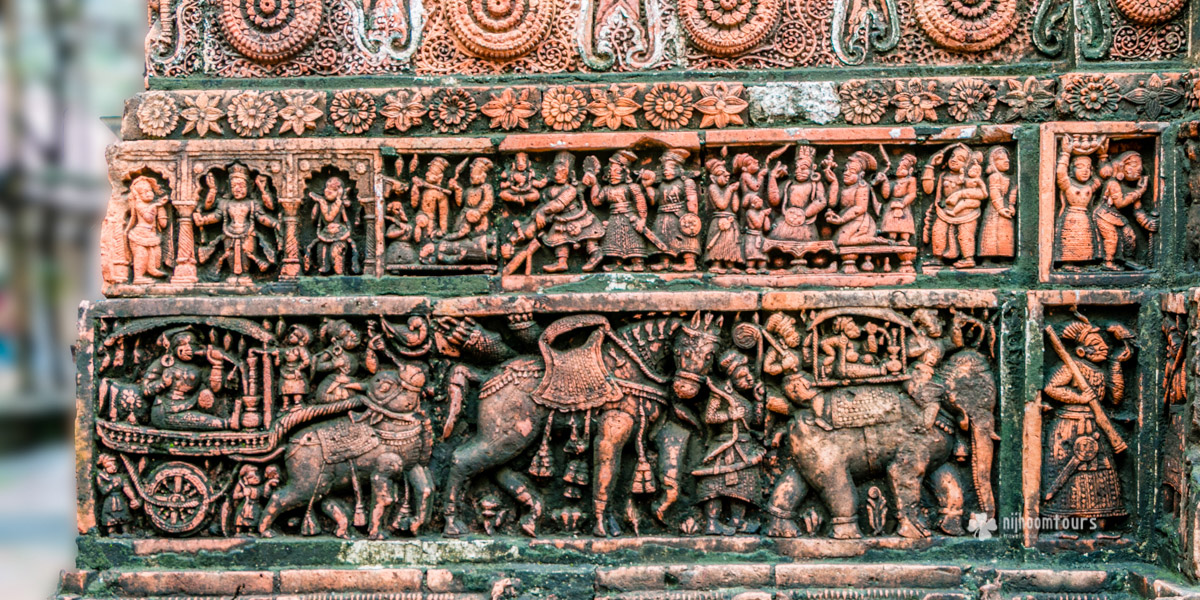 The astonishing profusion, delicacy of modeling, and the beauty of its carefully integrated friezes has seldom been surpassed by any mural art of its kind in Bengal. However, one distinctly delightful aspect of the fabulous terracotta ornamentation of Kantaji temple is its restraint in depicting erotic scenes. In this, it is unlike Orissan and South Indian temples.
The terracotta embellishments on the Kantanagar temple walls are of totally different nature from the other terracotta works found in the Buddhist temples from Pala dynasty from 7th-8th century. They represent a highly sophisticated mature art with a very carefully integrated scheme of decoration.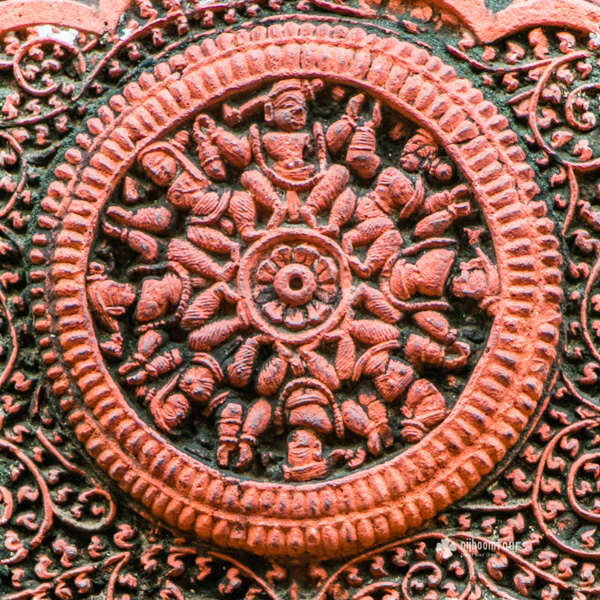 Contrary to the earlier tradition of isolated and somewhat unrelated composition, the art in this temple was composed of several individual plaques, integrated into an extended composition so that the entire space followed a rhythm.
How to go Kantaji Temple
Take a train or bus from Dhaka to Dinajpur. Upon arrival, get on a bus toward Takurgaon and tell them you'll go to Kantaji Temple. They will drop you on the nearest bus station of the temple. Take a rickshaw or auto-rickshaw from the bus station to the temple. If you are coming from Rangpur, take a bus toward Dinajpur and get off at the Dosmail stoppage. From there, jump on a shared CNG to the nearest bust station of Kantaji Temple, then take another CNG or rickshaw to reach the temple.
Visiting hours of Kantaji Temple
Kantaji Temple is always open for the visitors. You can enter the temple any time of the day to visit.
Entry fees of Kantaji Temple
Being a religious site, Kantaji temple does not require any ticket for both local and foreign visitors. They will however require 20 tk parking charge if you have any car with you. Consider giving some donation to the temple while visiting.
Have you ever visited Kantaji Temple? How amazing have you found it? Share your thoughts and experience with us in comments.
Take our 03 Days Heritage Tour to visit Kantaji Temple, Tajhat Palace, Nayabad Mosque, Somapura Mahavihara, and Mahasthangarh, which are the most impressive archaeological sights in Bangladesh.
Check out our 1-7 day tours and excursions in Bangladesh and 8-28 day holiday packages in Bangladesh to travel Bangladesh with comfort.
The following two tabs change content below.
Raw Hasan ( র. হাসান )
Founder & CEO
at
Nijhoom Tours
I am the Founder and CEO of Nijhoom Tours, an
award winning tour operator in Bangladesh
specialized in organizing inbound tours for the foreigners, specially the western tourists. While not traveling or busy with the desk work, I love to write about traveling Bangladesh, one of the least traveled destinations in the world about which not much correct information is available anywhere. Connect with me in Facebook, Twitter, or LinkedIn for updates and help about visiting Bangladesh.
Latest posts by Raw Hasan ( র. হাসান ) (see all)