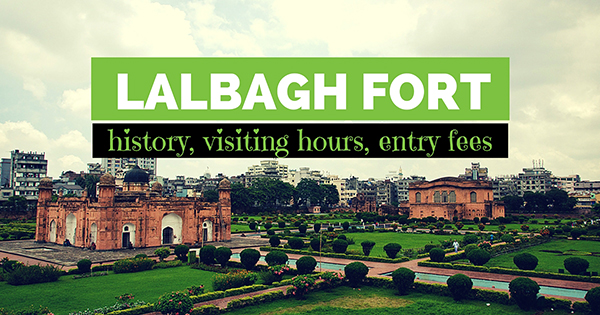 Lalbagh Fort is the most popular and renowned fort and a great signature of art by Mughal Empire in Bangladesh. It is also known as Fort Aurangabad. It is located in Lalbagh of old Dhaka, hence named so. It is situated by the bank of the river Buriganga in a rich red soil.
History of Lalbagh Fort
Lalbagh Fort is an incomplete structure by a Mughal prince and later emperor himself named Muhammad Azam (third son of Aurangazeb). He started the work of the fort in 1678 during his vice-royalty in Bangladesh (Previous Bengal). He stayed in Bengal for 15 months. It remained incomplete when he was called by his father Aurangazeb to the capital Delhi.
Shaista Khan was the new Subedar (Governor) of Dhaka in that time, and he did not complete the fort. In 1684, the daughter of Shaista Khan named Iran Dukht (Pari Bibi) died there. After her death, he started thinking the fort as ominous, and left the structure incomplete. Among the 3 major parts of Lalbagh Fort, one is the tomb of Pari Bibi.
After Shaista Khan left Dhaka, it lost its popularity. The main cause was that the capital was shifted from Dhaka to Murshidabad. After the end of royal Mughal period, the fort became abandoned. In 1844, the area achieved its name as Lalbagh replacing Aurangabad, so the fort as Lalbagh Fort.
© Photo: Raul Vibal on Flickr
Parts of Lalbagh Fort
Lalbagh Fort consists of three buildings:
The Mosque (west side)
The tomb of Pari-Bibi (middle of east-west of the fort)
The Diwan-i-aam palace (east side)
The mosque was used for prayer in that time, and still in use. The beautiful structure and the handy work there are great. People get amazed by seeing this kind of royal art. Many Islamic art and wall designs are preserved there.
Shaista khan couldn't make this fort better but designing the tomb of Pari Bibi gorgeously. He brought Marble stone, tiles, handy-crafts of flower-leaves there. This is the only place in Bangladesh where 9 rooms under there decorated with this kind of items. The roofs are made of black stones. In the top of the tomb, the dome is covered with pure copper. This beautiful 20.2 meter tomb was inaugurated in 1688.
Diwan-i-aam is the greatest part of Lalbagh Fort. It was used as office in that time. Diwan-i-aam is the place from where the Mughal ruler gave directions to the ordinary people once in a week. There is also a royal bathroom known as Hammam.
There are 3 gateways to enter the fort. The southern gateway is the most important and one can see it from Buriganga. It has a three-storied structure. But the middle structure is covered by Minaret. That is why it looks like a 2 storied structure.
In the total area of Lalbagh fort there are also Royal gardens and a drainage system. After a certain time Mughal emperor Aurangazeb donated the fort to Shaista khan in memory of his daughter Pari Bibi. The successor of Shaista khan got revenue after his death by leasing the fort to the government. After 1853 the cantonment was replaced in Lalbagh Fort from Purana Paltan. Currently, the Archaeological department of Bangladesh is maintaining this Historical place. This has become a key tourist attraction in Dhaka. Almost 3 million people visit this place every year.
Have you ever visited Lalbagh Fort? How amazing have you found it? Share your experience with us in comment!
You might also be interested in reading
13 Best places to visit in Bangladesh you can't miss
and
101 Things to know about traveling Bangladesh
.
Check out our Old Dhaka Tour to visit the key attractions of Dhaka city, including Lalbagh Fort. Full day tour starts from $52 with air-conditioned car, English speaking guide, all site entrance tickets, and lunch on a local restaurant with authentic local food.
Traveling on budget? Check out this Dhaka City Tour or these half day and full day tours in Dhaka suitable for the budget tourists and backpackers.
To travel Bangladesh with comfort, check out our 01-07 days tours and excursions in Bangladesh and 08-23 days holiday packages in Bangladesh.
Entry fees of Lalbagh Fort
Local Tourists: 20 TK
SAARC Country Tourists: 100 TK
Other Foreigners: 200 TK
Visiting hours of Lalbagh Fort
Summer Season (April – September)
Tuesday – Saturday: 10.00 AM – 01.00 PM, 01.30 PM – 06.00 PM
Friday: 10.00 AM – 12.30 PM, 02.30 PM – 06.00 PM
Sunday: Weekly Holiday
Monday: 02.30 PM – 06.00 PM
Winter Season (October – March)
Tuesday – Saturday: 09.00 AM – 01.00 PM, 01.30 PM – 05.00 PM
Friday: 09.00 AM – 12.30 PM, 02.00 PM – 05.00 PM
Sunday: Weekly Holiday
Monday: 01.30 PM – 05.00 PM
Eid Holidays
Lalbagh Fort will remain closed for visitors during Eid day and the previous day of Eid. It will remain open as usual from the next day of Eid day.
Govt. Holidays
Lalbagh Fort will remain closed during any govt. holiday.
Ramadan Timing
Lalbagh Fort will be closed at 04.00 PM during the holy month of Ramadan.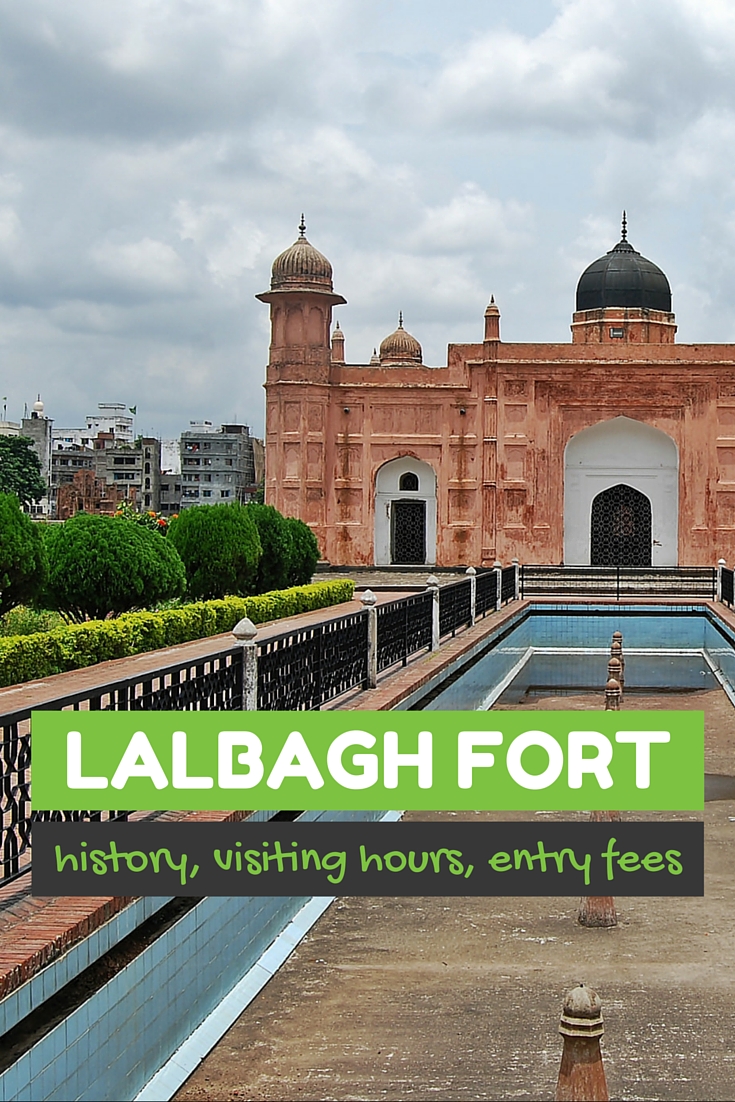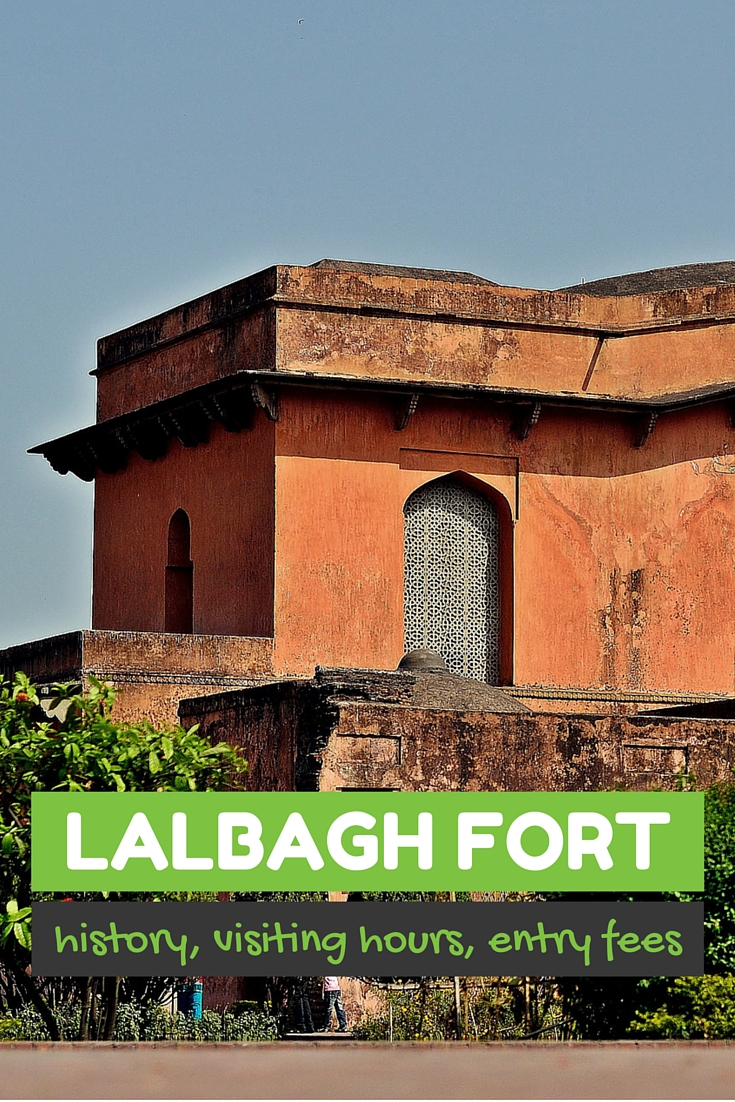 Pin these images to share this post. Hover mouse for the Pinterest button.
Share with friends
Let the world know about this amazing article you've found!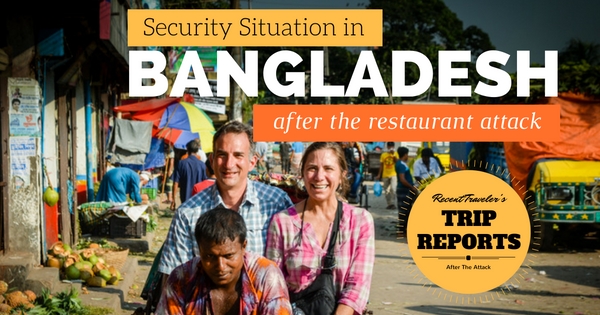 Reports from Western travelers after their recent visit to Bangladesh, about the security situation in Bangladesh after the restaurant attack in July, 2016.
Popular Holiday Packages in Bangladesh:
08 DAYS   $760 USD*
---
24-31 Mar, 21-28 Apr, 2017
---
22-29 Sep, 03-10 Nov 2017
---
01-08 Dec, 2017
---
19-26 Jan, 19-26 Feb, 2018
---
11 DAYS   $1,025 USD*
---
07-17 Apr, 08-18 Sep, 2017
---
01-11 Jan, 02-12 Apr, 2018
---
05-15 Oct, 2018
---
14 DAYS   $1,420 USD*
---
06-19 Oct, 15-28 Dec, 2017
---
05-18 Mar, 01-14 Sep, 2018
---
07-20 Dec, 2018
---
18 DAYS $1,970 USD*
---
10-27 Nov, 2017
---
02-19 Feb, 02-19 Nov, 2018
---
23 DAYS $2,500 USD*
---
03-25 Mar, 08-30 Dec, 2017
---
02-24 Mar, 03-25 Dec, 2018
---
27 DAYS $2,985 USD*
---
01-27 Oct, 2017
---
03-29 Jan, 03-29 Oct, 2018
---
The following two tabs change content below.
I am the Founder and CEO of Nijhoom Tours, an award winning tour operator in Bangladesh specialized in organizing inbound tours for the foreigners, specially the western tourists. While not traveling or busy with the desk work, I loves to write about traveling Bangladesh, the least traveled destination in the world, about which not much correct information is available anywhere. Connect with me in
Facebook
and
Twitter
for updates and help about visiting Bangladesh.
Latest posts by Raw Hasan ( র. হাসান ) (see all)