A list of the best things to do on any tour to the Sundarbans Mangrove Forest in Bangladesh, the largest mangrove forest on earth and a UNESCO World Heritage Site, for a memorable experience.
Sundarbans is the largest mangrove forest in the world spread between India and Bangladesh. 60% of the forest is located in Bangladesh, and this part of the forest is the densest and diverse with flora and fauna. Only in the Bangladesh part of Sundarbans, you can have a true experience of the mangrove forest.
To visit Sundarbans, you must book with a tour operator – no way to visit it on your own. A tour of this forest with the wrong tour operator could be a complete waste of time and money. Here is a list of the best things to do in Sundarbans, which you must check if a tour operator is offering before going on a tour with them.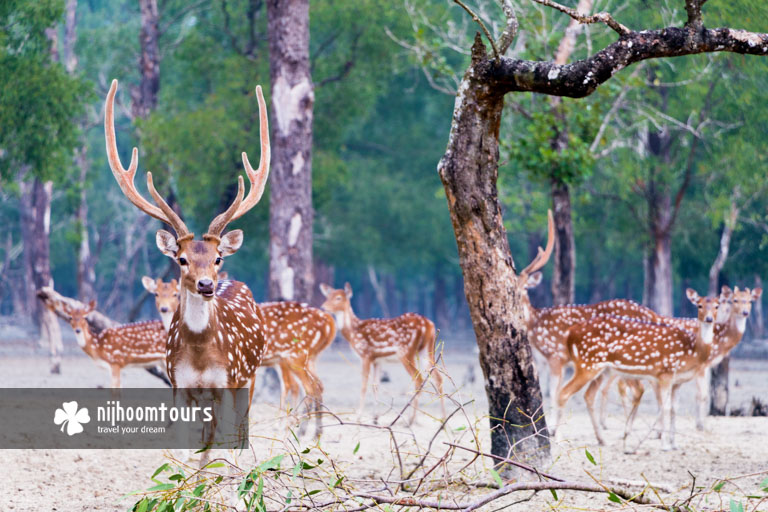 Axis Deer at a wildlife sanctuary in Sundarbans. © Photo Credit: Raw Hasan.
Best things to do in the Sundarbans Mangrove Forest
Sundarbans is a very big forest with so many places to go and so many things to do. Before visiting the forest, you must know where you need to go and what you need to do. Here is a list of 08 best experiences you must have in Sundarbans for the ultimate experience of the largest mangrove forest on earth.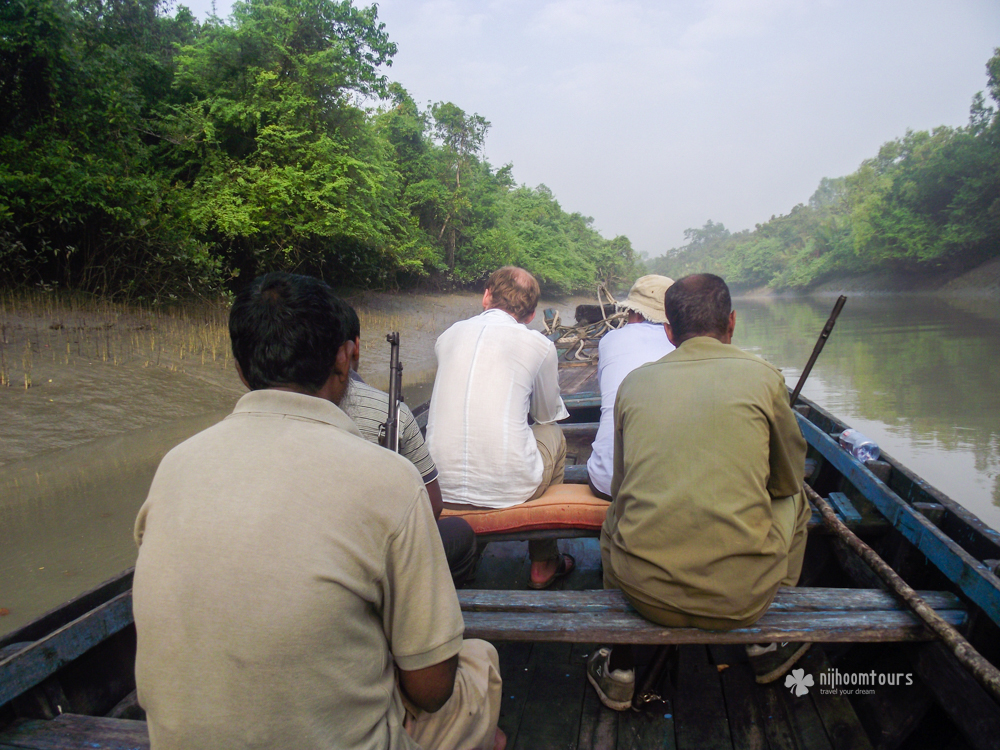 Morning boat ride on a canal
1. Morning boat ride on the narrow canals of the Sundarbans Mangrove Forest
Hundreds of creeks and canals are spread across Sundarbans, which are the lifeline of the greatest mangrove forest on earth. Early morning, all the animals and birds come to these narrow creeks and canals to drink water and catch prays. A ride on a noiseless rowboat on these narrow creeks and canals early in the morning could be rewarding. This would provide the best experience in the forest. Only on these trips, you'll be able to spot lots of animals and birds. You need to be extremely quiet on these trips to make sure not to scare them. That is why you must travel in a small group.
Walk inside the forest
2. Walk inside the Sundarbans Mangrove Forest
There is a trail from Kochikhali to Kotka, which goes through the jungle, open field, and Jamtola sea beach. Walking on this 10 km long trail will provide you a great experience to discover the forest. Only walking on this trail, you'll have a first-hand intimate experience of the largest mangrove forest on earth. Be sure to wear covered shoes on this trail to protect your feet from spiky trees and grass.
Panoramic view of Sundarbans from the watch tower
3. Seat quietly on a watch tower in the evening
In Kotka, there is a watchtower overlooking an open field with sweet water tanks for the animals. Animals come here in the evening to drink sweet water. If you sit quietly on this watchtower in the evening, you can spot many wild animals here. Also, the panoramic view of the forest from this watchtower is stunning. This is an experience you must not miss while visiting the mangrove forest. As many people can not climb this watchtower together, traveling with a small group comes in handy.
Jamtola Beach at Sundarbans
4. Visit Jamtola Beach inside the Sundarbans Mangrove Forest
Beaches in Bangladesh are overcrowded. The only exception is the Jamtola beach in Sundarbans. Because of the remoteness of the beach, not many people can come here. Located deep inside Sundarbans beside the Bay of Bengal, Jamtola beach is the cleanest, nicest, and quietest beach in Bangladesh. While visiting the forest, you must spend some time on Jamtola beach, which would definitely be a highlight of your Sundarbans excursion.
A Bengal tiger at Sundarbans
5. Enjoy the night sky and sound of nature
While visiting Bangladesh part of Sundarbans which consists of more than 60% of the forest spread between India and Bangladesh, you'll spend the nights on a houseboat which will be parked for the nights on the rivers in different parts of the forest each night. On these nights, you must sit quietly on the open deck of the boat and look at the sky. You can see thousands of stars in the whole galaxy on good weather, and listen to the sound of nature, which is tranquilizing. This will be a once-in-a-lifetime experience.
River Dolphin at Sundarbans
6. Watch Dolphins at the Sundarbans Mangrove Forest
Sundarbans is the only place in the world where the Ganges river dolphins and Irrawaddy dolphins are found. These dolphins are among the world's most endangered mammals. Dhangmari, Chandpai, and Dudhmukhi areas of eastern Sundarbans have been declared a sanctuary for these dolphins. While visiting the mangrove forest, stop by one of these places and watch the dolphins jumping from the water. It will be a great experience.
A canal inside Kotka wildlife sanctuary
7. Visit a wildlife sanctuary in the Sundarbans Mangrove Forest
Sundarbans has several wildlife sanctuaries, among which Kotka Wildlife Sanctuary is the most accessible. On these sanctuaries, you can watch lots of deer, monkeys, crocodiles, and other animals. Visiting one of these wildlife sanctuaries at Sundarbans could be rewarding, and a must thing to do while visiting the forest.
A small group tour in Sundarbans
8. Travel on a very small group
Having a proper tour at Sundarbans is expensive. To reduce cost, most people travel Sundarbans on a very big group of a minimum of 40 people or more. On these tours, people use large boats to go to the forest and end up seeing almost nothing and very much disappointed, as these big boats can not even enter the narrow canals of the forest because of the shallow draft. But only these narrow canals provide a chance to spot most of the wildlife where fewer people go.
Always join a small group of a maximum of 6 people on any Sundarbans tour to get the best experience of the forest. Check out our small group Sundarbans tour packages in Bangladesh for a true experience of the world largest mangrove forest.
Pro Tips: Never do a day tour of Sundarbans! You might want to quickly sample Sundarbans to save time and money, but it will be a full waste of your time and money as you will end up just visiting an Eco Park and a zoo, no matter what they promise! It will be simply a bad taste of the forest. Either do a 3 days tour or leave it completely. There is nothing in between!
Popular Sundarbans Tour Packages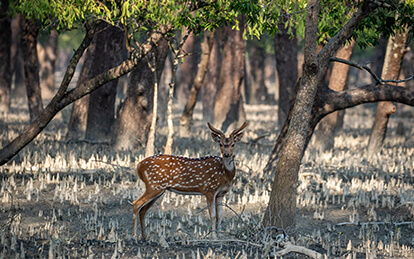 3-day tour starting and ending at Mongla (240 km from Dhaka, 53 km from Khulna) - $560 US*.
4-day tour starting and ending at Dhaka with return flights to Jessore - $950 US*.
5-Day Sundarban tour package from Dhaka with visiting Bagerhat Mosque City - $1,020 US*.
8-day tour with airport transfers and hotel in Dhaka and visiting Dhaka & Bagerhat - $1,260 US*.
Reviews of our Sundarbans Tour
Have you ever visited Sundarbans? What was your best experience in Sundarbans? Have I missed something here? Share your thoughts and experience with us in the comments.
Check out our 1-7 days Bangladesh tour packages and 8-28 days Bangladesh holiday packages to visit Bangladesh with comfort.